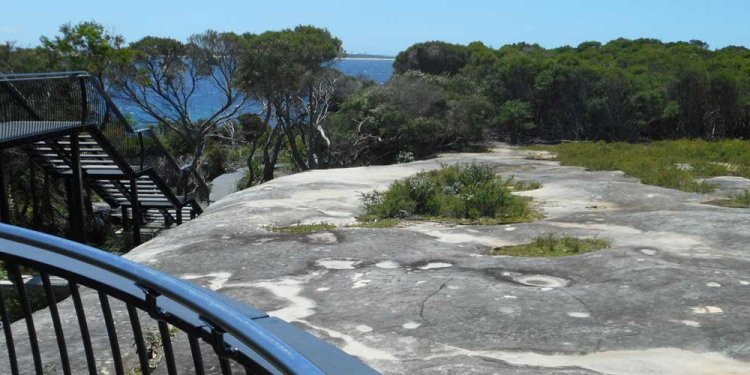 Sacred sites in Australia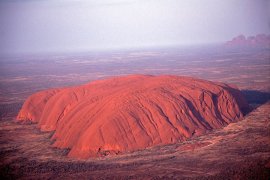 Uluru (Ayers Rock) with Kata Tjuta (The Olgas) in the distance, Australia (Enlarge)
Throughout the ages many cultures have conceived of geographic space and expressed those conceptions in a variety of ways. One expression of these conceptions has been the establishment of sacred geographies. Sacred geography may be broadly defined as the regional (and even global) geographic locating of sacred places according to various mythological, symbolic, astrological, geodesical, and shamanic factors.
Perhaps the oldest form of sacred geography, and one that has its genesis in mythology, is that of the aborigines of Australia.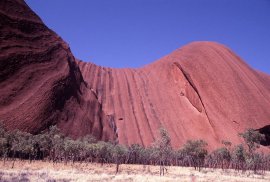 According to Aboriginal legends, in the mythic period of the beginning of the world known as Alcheringa - the Dreamtime - ancestral beings in the form of totemic animals and humans emerged from the interior of the Earth and began to wander over the land. As these Dreamtime ancestors roamed the Earth they created features of the landscape through such everyday actions as birth, play, singing, fishing, hunting, marriage, and death. At the end of the Dreamtime, these features hardened into stone, and the bodies of the ancestors turned into hills, boulders, caves, lakes, and other distinctive landforms. These places, such as Uluru (Ayers Rock) and Kata Tjuta (the Olgas Mountains) became sacred sites. The paths the totemic ancestors had trod across the landscape became known as Dreaming Tracks, or Songlines, and they connected the sacred places of power. The mythological wanderings of the ancestors thus gave to the aborigines a sacred geography, a pilgrimage tradition, and a nomadic way of life. For more than forty thousand years - making it the oldest continuing culture in the world - the Aborigines followed the Dreaming tracks of their ancestors.
Share this article
Related Posts