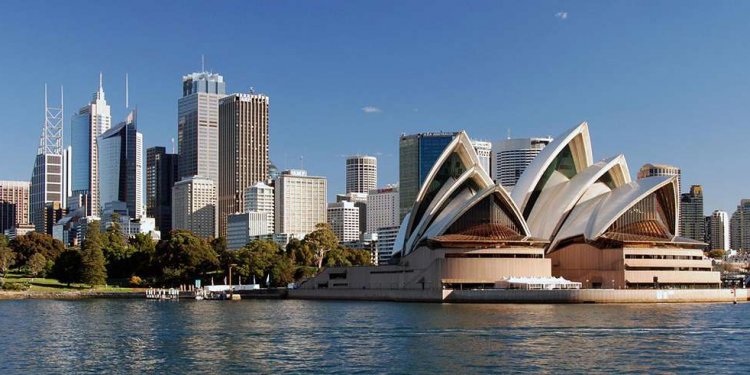 AUS Country
For many Australians the phrase 'the lucky country' has a particular resonance. Donald Horne's famous words have been used in numerous ways to describe everything that is great about our nation.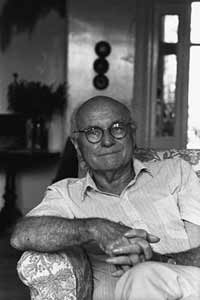 Portrait of Donald Horne, Woollahra, 1987
Alec Bolton 1926-1996. Image courtesy of the National Library of Australia.
The phrase has been used to describe our weather, our lifestyle and our history. It is often invoked to describe the nation's good fortune, from gold booms to economic booms. Recently, our geographic isolation from the world's trouble spots has again seen us labelled the lucky country. It has been paraphrased by politicians - 'the clever country' - and when Kylie Minogue sings we're 'lucky, lucky, lucky', we all know what she means.
How ironic then that Horne's irony was totally overlooked!
The great irony
Donald Horne remembered the night he penned those words. Within a few weeks the phrase had become the title of the book.
In a hot summer's night in December 1964 I was about to write the last chapter of a book on Australia. The opening sentence of this last chapter was: 'Australia is a lucky country, run by second-rate people who share its luck.'
That sentence was a rather brutal indictment of his country at the time. It is a direct, uncompromising and seemingly unambiguous commentary on Australia in the 1960s. Horne was critiquing an Australia that did not think for itself; a country manacled to its past; and 'still in colonial blinkers': 'If we are to remain a prosperous, liberal, humane society, we must be prepared to understand the distinctiveness of our own society'.
He was thinking about things like Australia's cultural cringe, its foreign policy and the White Australia Policy. He was, to paraphrase those words, talking about a 'not too clever country'.
I had in mind in particular the lack of innovation in Australian manufacturing and some other forms of Australian business, banking for example. In these, as a colonial carry over, Australia showed less enterprise than almost any other prosperous industrial society.
Australia, Horne argued, developed as a nation at a time when we could reap the benefits of technological, economic, social and political innovations that were developed in other countries. Those countries were clever: Australia was simply lucky.
When The Lucky Country was released in 1964, most of the reading public was aware that the phrase was being used ironically. Horne lamented the fact that it had since been taken up by others and given different meanings: '... I have had to sit through the most appalling rubbish as successive generations misapplied this phrase'.
The clever country
The adoption of the phrase 'the clever country' in the political sphere is for many a catchy wordplay on Horne's 'lucky country', as well as an upbeat statement about what we need to do to compete on the world stage. Yet Horne's thesis in The Lucky Country is precisely this. He argued that, as a nation, we were lucky to develop at a time when we weren't being particularly clever.
Horne talked about the need to be more innovative and proactive, and about making decisions in our national interest. These are the issues debated by our politicians and intellectuals today under the banner of the 'the clever country'.
Professor Ian Lowe, an eminent social commentator, says in his paper The Clever Country? that Australia has two options. Either 'we could continue our current economic strategies; this could be called the 'steady as she sinks' approach', or, he says, 'we could try seriously to become 'the clever country' by investing in our own future.'
Horne saw the links between the debate of today and his own words of nearly 40 years ago:
I think we should realise that 'the lucky country' provides a descriptive phrase, condemning Australia for what it was, whereas the clever country is a prescriptive phrase, suggesting to Australia what it might become.
A phrase for all seasons
A search on the Internet under 'lucky country' underlines just how many times, and in how many contexts, Horne's famous words have been used and adapted.
There are stories about sporting success ('the lucky country'); sporting failure ('the unlucky country'); asylum seekers ('the unlucky country'); poverty ('Whatever happened to the lucky country?'); and aboriginal health ('the forgotten country'), to name a few.
His words were meant as a wake-up call but were widely interpreted as an affirmation of the Australian way of life. They were meant to spark change but instead produced a relaxed approach and a 'she'll be right' mentality.
His words have proved prophetic and as Horne himself said, 'After all, the alternative to being a clever country is to be a stupid country'.
About Donald Horne
As an author, Donald Horne wrote over twenty books (including The Lucky Country), and contributed to many journals and newspapers in Australia, Britain, Europe and the United States. He became a professor at the University of New South Wales and went on to become the Chancellor of the University of Canberra. He was twice editor of The Bulletin and edited The Observer and Quadrant. He was also contributing editor to Newsweek International.
creative at home date ideas
creative at home costumes
creative at home jobs
creative at apple
creative at apple salary
creative at work
creative before and after pictures
before creative
creative smiles before and after
creative home before and after
creative writing before bed
creative photography before and after
creative just before sleep
creative director plt before molly
creative behind the ear tattoos
creative behind the scenes videos
creative behind wasted youth
creative rachy behind the scenes
creative backsplash behind stove
creative leave behind ideas
creative process behind website design
creative ideas behind the logo
creative memories beneath the pines
creative memories beneath the pines paper pack
creative memories beneath the pines album
creative between synonym
between creative
between creative and imaginative
creative collaboration between painters
creative tension between
creative difference between artistic
minecraft creative between
difference between creative commons and copyright
creative beyond
creative beyond meat recipes
creative beyond burger recipes
creative beyond measure
beyond creative management
beyond creative agency
beyond creative fortnite
beyond creative studio
creative but easy halloween costumes
creative but easy pumpkin carvings
creative but simple halloween costumes
creative but not artistic
creative but easy pumpkin carving ideas
creative but cute halloween costumes
creative but hot halloween costumes
creative but conservative
creative by nature
creative by design
creative by nature blakeney
creative by button
creative by nature llc
creative by nature diy and decor
creative by j
creative during pandemic
creative during lockdown
creative during covid
creative during quarantine
creative during corona
creative ideas during lockdown
creative dates during covid
creative dates during covid 19
creative event
even creative flowers
creative for kids
creative for facebook ads
creative for hire
creative for preschoolers
creative force
creativeforge games
creative forecasting
creativeforkidsco
creative form drawing
creative form drawing pdf
creative form drawing workbook 1
creative form design
creative form liners
creative form drawing angela lord
creative form drawing for the four temperaments
creative form taekwondo
what's another word for creativity
different names for creativity
closest synonym for the word creativity
creative ways to get in front of prospects
creative ways to reach prospects
creative ways to prospect
creative ways to engage prospects
creative in french
creative in latin
creative in counters
creative in italian
creative in japanese
creative in asl
creative in my kitchen
creative inside sales titles
creative inside
creative inside art
creative inside nantes
creative inside dortmund
inside creative writing
inside creative writing brad reed
inside creative writing robert olen butler
creative like us
creative like a simile
creative like da vinci
creative like meaning
creative like me
creative like synonyms
creative like jobs
creative made from letters
creative works made of recyclable parts crossword clue
creative works made of recyclable parts
creative works made of recyclable parts nyt crossword
creative attire made of recycled materials
creative works made of recyclable parts nyt
creative gifts made of iron
creative nonfiction made of
creative near me
creative near
creative near blacksburg va
creative classes near me
creative cakes near me
creative nails near me
creative cuts near me
creative of destruction
creative of arts
creative of commons
creative of greensboro pools & spas
creative of garforth
creative of entrepreneurship
creative of the week
creative of adam
creative off road
creative off camera flash techniques
creative off white phone case
creative off
creative off meaning
creative off synonym
creative show off costume hire
creative director off white
creative on the cheap
creative on demand
creative on the cheap youtube
creative on call
creative on purpose
creative on main street
creative on resume
creative on fortnite
creative opposite of
creative opposite meaning
opposite of creative person
opposite of creative thinking
opposite of creative writing
opposite of creative thinker
opposite of creative mind
opposite of creative subjects
creative out of office messages
creative out of home advertising
creative out of office message examples
creative out of office email examples
creative out of office
creative out of the box thinking
creative out of office email
what is a good out of office message
creative outdoor distributor
creative outdoor solutions
Share this article
Related Posts