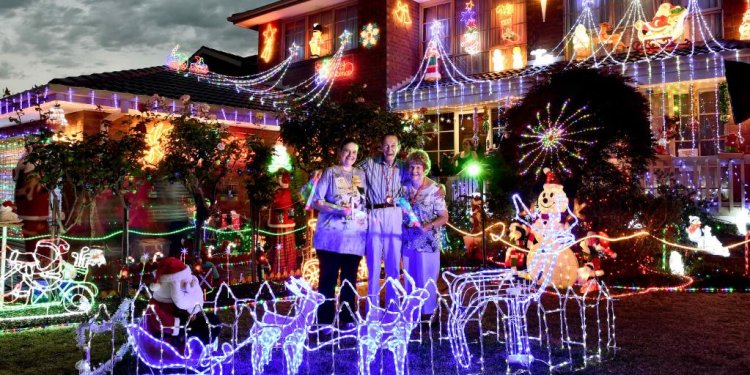 Aussie Christmas Lights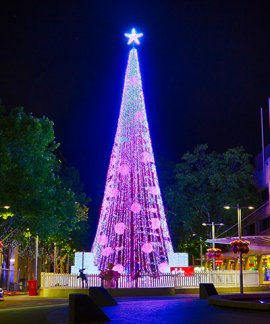 It may still be November, but this will get your Christmas pulses going as Australian David Richards – known locally in Canberra as 'Christmas Lights Man' - has orchestrated the world's Largest display of Christmas lights on an artificial tree with 518, 838 individual lights to earn himself a spot in the record books.
The display was officially switched on at 20:45 Australian time on Friday in the presence of jolly locals and an official Guinness World Records Adjudicator who was on hand to confirm the new world record. The Christmas tree is decorated with baubles, flashing presents and is topped by a 1.5-metre star containing 12, 000 bulbs.
A display of this kind was no overnight job and, with the leadership of Richards and an enormous undertaking involving architects, electrical and civil engineers, designers, and an army of SIDS and Kids ACT volunteers, 518, 838 lights was more than enough to beat the previous record of 374, 280 by Universal Studios Japan in October 2015.
The dad of three is no stranger to Christmas related records and has previously set the Guinness World Records titles for the "Largest image made of LED lights" and "Most Christmas lights on a residential property".
Richards and his wife Janean sadly lost their son aged just one month old in 2002 and have been fond supporters of the Canberra-based charity SIDS and Kids ACT which is dedicated to eliminating sudden and unexpected death in children from conception onwards and providing programs and services.
They have raised hundreds of thousands of dollars through various fundraisers and his record attempts are key to helping conjure up local support for the charity and much needed funds.
"For a little charity to come out of nowhere and beat the previous record is extraordinary - Canberra has taken the world record away from a major theme park in Japan! This has been an enormous undertaking involving architects, electrical and civil engineers, designers, and an army of SIDS and Kids ACT volunteers all donating their time and goods and services, ' says Richards.
'Ever since our tragic loss in 2002, SIDS and Kids ACT has been an organisation close to our hearts. We want to support them so they can continue to provide bereavement services to Canberra and the surrounding community, " says David.
SIDS and Kids ACT CEO Lisa Ridgley says she is in awe of David's commitment to the event, and his passion and sheer will-power to finish the project.
"Our organisation is truly grateful for all David does. We've been working on this since January; it's been fantastic watching it all come together. Christmas Lights in the City would not have been possible without the contribution from David, local businesses and the Canberra community. It is an incredible way to bring people together at Christmas… what a gift for Canberra!" says Lisa.
Guinness World Records Editor in-Chief, Craig Glenday, was delighted to see this record kick of the start of what will be a month filled of amazing Christmas records. He said: "Everyone here at Guinness World Records looks forward to this time of year like most and David Richards continues to amaze us with his incredible Christmas displays. This is an amazing new record and it's no mean feat decorating a tree with over 500, 000 lights - do bear a thought too for our adjudicator who had to count each and every light!
video
Share this article
Related Posts