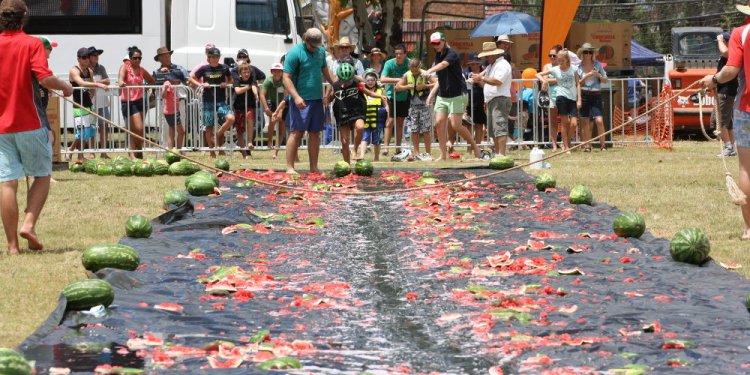 Famous festivals in Australia
Diplo from band Major Lazer crowd surfs during the Gold Coast leg of the 2014 Big Day Out tour
It's usually around this time of the year that festival-goers are gearing up to get hot and sweaty at what was, at least historically, the ultimate one-day festival: Big Day Out. But these dog days are over, because Big Day Out's new owner, C3 Presents, has cancelled the event in Australia and New Zealand. Plummeting ticket sales have made the festival financially unviable, they say.
Far from being a unique story, BDO's tale of ruin is playing out across the one-day festival circuit.
According to an article published on Vice, last year alone saw Harvest, Peats Ridge, Homebake, Pyramid Rock, Playground Weekender, Push-Over, and the second Sydney Big Day Out festivals all shut down for the same reason. Groovin the Moo only managed to sell out three of four shows, and Perth lost both their Big Day Out and Soundwave tours. Soundwave promoter AJ Maddah jumped on board the 2014 Big Day Out tour and his company lost millions in the process.
So what exactly is happening to Australia's music festival industry? And where are former BDO die-hards going to soothe their festival fever?
It appears "bush doofs" and multi-day festivals are beginning to take off. Last year, early bird tickets for Strawberry Fields — pitched as "an annual celebration of art, sound and creative expression" — sold out within one hour; in two and a half days, the festival sold more tickets than they did over four months in 2013. Rainbow Serpent sold a record of 15, 000 tickets. Falls Festival sold out in both Lorne and Byron Bay and, just over a week before the festival begun, only had 500 more tickets available for the Tasmania-based festival.
No money, mo problems
Festivals aren't cheap. Ticket prices are almost always in the triple figures, and then you have to pay for expensive food and drinks. So it makes sense that festival-goers want to stretch their dollar further.
Nicholas Greco, director of multi-day festival Beyond the Valley, told Crikey, "Going to a festival is a big expense for the patron so it becomes a value thing. There is more value in committing to a multi-day event than a one-off event". To illustrate, in 2014, a single BDO ticket cost up to $185. Compare that with a single-day ticket for the multi-day festival Splendour in the Grass, which costs about $150. A camping ticket for Rainbow Serpent costs about $280 — the equivalent of around $70 a day over four days.
Frankie says relaxing is key
Festival-goers now prefer an immersive and relaxing experience to constant stage-hopping. Festivals like Strawberry Fields and the gaudy Rainbow Serpent transport you to an entirely new world. Not only is there live music, there are dozens of little niche stores with locals selling everything from jewellery to hippie pants to crystals and palm readings. Festivals that provide patrons with this kind of experience have seen attendance numbers skyrocket, while traditional one-day festivals decline. Sweeney Research found that only 10% of 18-30-year-olds see the BDO as "laid back" and a mere 19% perceive it as being "social".
Crikey spoke to a group of festival-goers and found that many between the ages of 19 and 22 prefer multi-day festivals and bush doofs over one-day festivals because of the camping experience and because a longer stay gives you more time to relax into the festival spirit. "Time is irrelevant at a multi-day festival, " said one festival-goer. "Mobiles aren't needed. You're simply out in the wilderness with those you care about."
Nobody does it quite as good as you
Today's most popular music festivals appeal to a specific subculture. Rainbow Serpent, for example, is known for its electronic music as well as its spiritual, hippie culture. Attendees can indulge in a variety of healing, yoga and art workshops.
what is business address
stylish garden accessories
what are small business grants
reasons why business succeed
stylish dressing table
how to make business email address
describe the communication requirements of different audiences
royal horticultural society shop
unified communication
what does seo mean in business
stylish living rooms
christmas gifts for dad
skipton building society savings accounts
when does skype for business end
christmas zoom background
bandaranaike international airport
fenix international ltd
outdoor cooking
Share this article
Related Posts