Traditional Australian Christmas
A traditional family Christmas with all of the trimmings often seems like a lot of work.
We kept our traditional Christmas foolproof and simple so you have more time with your guests enjoying your special day and less time in the kitchen.
We've done an easy brine technique to ensure your turkey will be spectacularly moist, your potatoes will be crunchy, and your modern mince tart will please even the fussiest palate.
One popular Christmas decorating trend for 2015 will be vintage pastels, so it's the perfect time to pull out your old linen and plates.
If you don't have any, a white sheet, with romantic ivy and jasmine some candles and baubles can create a simple yet elegant centerpiece… but as we all know, Christmas isn't about the table setting as much as it's about the food, the company, and the Christmas spirit.
Menu – serves 6 people
Brined Roast Turkey
Quinoa and Cranberry stuffing
Green Beans with Pomegranate
Hasselback Potatoes
Maple Roasted Sweet Potato
Modern Mince Pie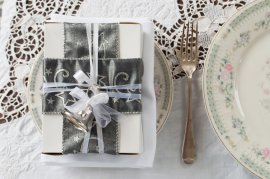 Tips For Traditional Christmas
You can add any aromatics you like to your brine.
Other combinations could be -
Chopped carrot, celery, onion, bay leaves, fennel seeds, and peppercorns.
Onion, sage, garlic, mustard seeds, and parsley.
If you don't wish to use spiced rum in your pie, you can substitute brandy, or just omit. You will need to add 100ml of water, though.
Making your own flour
If you have time and inclination you can make your own short-crust pastry like this. You can add a little icing sugar if you wish to make a sweet pastry. I find the tart sweet enough as it is.
Ingredients
2 cups plain flour
150g butter, chilled
2-3 tablespoons iced water
Method
Process flour and butter in food processor until fine breadcrumbs form. With the machine still on slowly add the iced water until a smooth ball forms.
Remove from processor, shape into a disc, wrap in plastic and place in the fridge to chill for at least an hour.
If you don't have star cookie cutters, you can cut slices of pastry and create a lattice effect on top of your pie, which is also very eye catching.
Suggestions For Leftovers
Leftover stuffing goes beautifully in a salad with rocket and goats cheese, tossed with a balsamic dressing.
Leftover turkey makes fantastic lunch wraps mixed with celery, walnuts, apple and a hint of mayonnaise to bind it all together.
Leftover turkey could also be used in pot pies. Cooking off onion, carrot, and celery with some thyme. Add a little white wine, some corn kernels, and peas. Add your shredded turkey. Make a quick béchamel sauce to mix into your vegetables mix, before spooning into single serve ramekins. Top with a round of pastry and cook in the over until brown.
Share this article
Related Posts