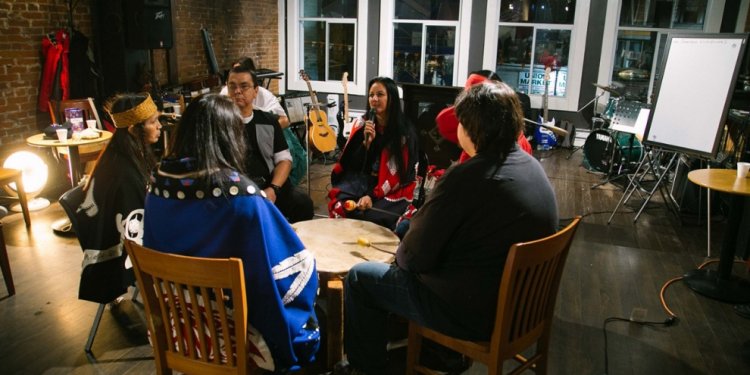 Aboriginal spirituality Ethics
Elder George Courchene of Sagkeeng First Nation in Manitoba, at a public hearing of the Royal Commission on Aboriginal Peoples in 1992, spoke of "Indian law" that was given to the people by the Creator at the beginning of time: "He gave them four directions. He gave them sweetgrass, the tree, the animal and the rock. The sweetgrass represents kindness; the tree represents honesty; the animal, sharing; and the rock is strength."1
Sagkeeng First Nation is one of many communities around the Great Lakes and southern Manitoba and Saskatchewan, also known as Ojibway or Saulteaux, that identify themselves as Anishinabek. Elders such as George Courchene have maintained ancient Anishinabek teachings and ceremonies, which are providing support for mental health among First Nations people.
The value of these teachings is also being discovered by teachers, counsellors, therapists and social workers seeking to help people reclaim balance and wellness in their lives. But helping professionals are urged to base their interventions on evidence of effectiveness. Policy makers are also looking for evidence-based strategies. Research is the source for such 'evidence.'
Researchers and their wisdom, however, are often distrusted by First Nations, Inuit and Métis people. There are many stories of researchers who promised to do good with their studies but violated community rules of behaviour, reached conclusions that were contrary to what participants understood to be true, or failed entirely to report back to the community with their findings. One example of such behaviour was that of a researcher who invited members of Nuu Chah Nulth communities in British Columbia to give blood for diabetes research. No new insights into diabetes were found, but the researcher went on to use the blood components for other purposes, without permission. This led to the researcher making statements about the genetic origins of the Nuu Chah Nulth that were contrary to their own history and sense of identity.2
Researchers are required to follow ethical codes of behaviour based on respect for human dignity. Valid research requires trust between researchers and the participants whose experience is being explored. The three agencies that distribute federal government funds for research—the Canadian Institutes of Health Research (CIHR), the Natural Sciences and Engineering Research Council (NSERC) and the Social Sciences and Humanities Research Council (SSHRC)—are now considering how the expectations of First Nations, Inuit and Métis people, and the ethics of research, can work together. Collaboration is widely accepted as the best means of producing sound human research on which to base more effective policies and services, including those in the field of mental health and addictions.
In May 2007, the Canadian Institutes of Health Research (CIHR) released guidelines for health research involving Aboriginal people.3 These guidelines promote research that is in keeping with Aboriginal values and traditions. The document begins with the recognition that researchers in the past have sometimes violated their own ethics requiring respect for human dignity.
The CIHR guidelines propose that research partnerships with Aboriginal communities be formalized in agreements balancing Aboriginal expectations of respectful behaviour and researcher ethics of respect for human dignity.
I serve on the Interagency Advisory Panel on Research Ethics, which is updating the Tri-Council Policy Statement Ethical Conduct for Research Involving Humans (TCPS 1998). The second edition of the TCPS, scheduled for release in 2009, will include a chapter on ethics of research involving Aboriginal peoples. It will build on the CIHR guidelines and will extend the coverage of policy to all types of research involving humans.
In developing the new chapter in the TCPS, we recognize that Aboriginal or Indigenous traditions have much to contribute to our understanding of ethics. The language, however, may refer instead to "spiritual responsibilities to maintain right relationships." For example, Elder Courchene's words, as they apply to relationships between researchers and Aboriginal participants in research, may be expressed as follows:
Kindness implies respect for the dignity of the others involved, not dominating or pressing our own agenda at the others' expense
Honesty involves communicating our principles and intentions as the basis for relationship and ensuring free, informed consent for actions taken
Sharing recognizes that the common good requires give and take by all, with respect for the different gifts that each party brings
Strength is courage to stand firm for our principles; in some cases, strength is resilience, as in the capacity to bend to circumstance while holding on to important values
Together, these virtues balance one another to maintain respect for self and others. All parties to a relationship are responsible for maintaining this ethical balance. While words to describe relationships differ, it is possible to see the harmony between the ethics of "respect for human dignity" endorsed by researchers and the ethics of "right relationships" embodied in First Nation, Inuit and Métis traditional teachings.
Share this article
Related Posts