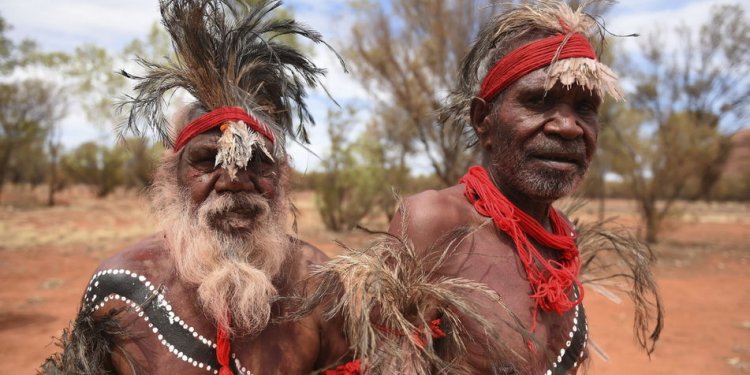 Aboriginal Australians Facts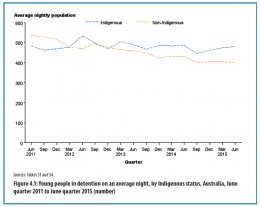 An ABC Four Corners report into the treatment of youth detainees in the Northern Territory showed images of juvenile detainees being gassed, choked and stripped naked in the Don Dale Juvenile Detention Centre.
More than half of children in detention in Australia are Indigenous
Indigenous Australians account for less than 3 per cent of Australia's national population, but they make up more than half of all children* in juvenile detention.
According to the most recent statistics, Indigenous children are 26 times more likely to be imprisoned than non-Indigenous children.
On an average night in Australia, 34 in every 10, 000 Indigenous young people are in prison, compared to just 1.3 per 10, 000 non-Indigenous young people.
Aboriginal and Torres Strait Islander youth are currently 26 times more likely to be detained than their non-Indigenous counterparts.
This trend is not new: Nationwide, Indigenous young people have consistently outnumbered non-Indigenous youth in every quarterly survey since March 2013.
Youth detention in the Northern Territory
The paper's author, Michael Vita of NSW Juvenile Justice, reports, "Indigenous offenders are more likely to commit their first offence at a younger age than non-Indigenous offenders, and are more likely to have been charged multiple times."
"Indigenous youth are more likely to be in detention than non-Indigenous youth, and they are being placed into detention for more serious crimes, such as acts intending to cause injury, " he continues.
The statistics also reflect that young people between the ages of 15 to 16 are most likely to be apprehended and that the number of people under 15 years being detained is increasing.
Mr Vita also expresses, "many young people in the youth justice system come from homes where poverty, alcohol abuse, violence and dysfunctional relationships are the norm.
"These are young people in greatest need and the ones who are likely to require a higher level of intervention and case management."
He argues that the underlying causes for these young people's offences need to be recognised and addressed.
The statistics are echoed in the adult population
On average, 10, 558 Aboriginal and Torres Strait Islander adults are in prison each day, which is an increase of 7 per cent since the number was calculated at the same time in 2015.
The rates of Indigenous incarceration are the highest in Western Australia and the Northern Territory. For every 100, 000 Aboriginal and Torres Strait Islander people in WA, 3, 745 are imprisoned, while in the Northern Territory the statistic is only slightly less with 3, 025 prisoners per 100, 000 people.
The numbers are echoed in community-based corrections as well, with nearly 20 per cent of people in community-based correctional facilities being Aboriginal and Torres Strait Islander. This is an increase of 11 per cent since March 2015.
Consistently on the rise
According to data collated by the Law Council of Australia from the Australian Bureau of Statistics, the number of Indigenous Australians in the prison system has risen by a staggering 88 per cent between 2004 and 2015.
That's compared to a 28 per cent increase in non-Indigenous Australians within the same period.
In the 25 years since the Royal Commission into Indigenous Deaths In Custody, the number of Indigenous people in prison has doubled. Meanwhile, there have been 449 Indigenous deaths in custody between 1980 and 2011, and Aboriginal and Torres Strait Islanders currently represent approximately 1 in 5 deaths in custody.
The trends aren't solely confined to male offenders - 34 per cent of the national women's prison population are of Aboriginal and Torres Strait Islander descent.
Factors that increase the risk of Indigenous incarceration include the "misuse of alcohol, socio-economic disadvantage, childhood exposure to violence and abuse, the younger age profile of the Indigenous population, previous involvement with the criminal justice system and psychological distress, " according to the Australian Institute of Criminology.
Inter-generational trauma, disconnection from land, levels of legal representation, a lack of English language skills, health problems and family breakdowns also contribute to the high rates of detention.
Share this article
Related Posts