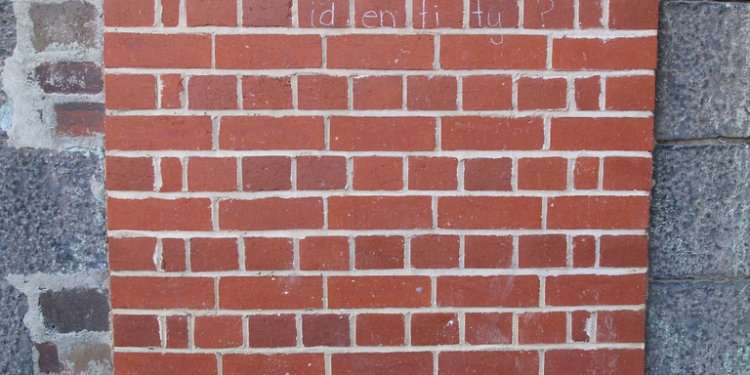 What is the Australian identity?
OFFICIAL IDENTITY DISCS
During the First World War there were three types of identity discs issued to those serving in the Australian Imperial Force [AIF]. Those serving in the Royal Australian Navy were not issued with identity discs (excluding members of the Royal Australian Naval Bridging Train, who do appear to have been issued with official identity discs), although some wore private purchase or improvised ones and I have come across one instance of a naval man who had an official metal disc with his details but how he came to acquire it is unknown. The RAAF did not exist until 1921 and those serving in the Australian Flying Corps were part of the AIF and so their experience conforms to those detailed below.
MYSTERY '1907 PATTERN' DISC
One disc that has caused some mystery is a metal disc the same shape as the 1907 pattern disc, but which is thicker and has the 1908 pattern Australian Coat of Arms on the reverse. This is either a private purchase type or a Government disc (such as a Railways locker tag), possibly used if they ran out of normal discs. No information about the origins of this disc have yet been identified.
RECOVERING THE DISCS FROM THE DEAD
Regulations stated that "Anyone concerned in burying a soldier, or finding a body after an action, will remove the identity disc and pay book..." (Field Service Regulations 1909 Part 2 133 (3)). Of course as men were only issued with one identity disc, this could cause issues at a later date if other identifying information was lost - such a grave markers being removed or destroyed (see the Gallipoli graves blog for an example of this).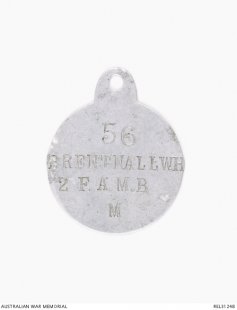 Despite the obvious need for more than one identity disc per man, it was not until late 1916 that orders were issued for soldier's to receive two discs each.
Although the discs were official kit, issued by the AIF, they were sent home to the next of kin as personal items. Even the German Army returned some discs of Australian soldiers they buried. They sent the identity discs of many, if not all, of the men they buried in the Pheasant Wood mass graves in 1916 to either AIF headquarters or directly to the family. Regulations stated that "The pay book and identity disc of a deceased soldier, and any personal effects which may have sentimental value, will be sent with the least possible delay, by the officer under whose immediate command he was when he became non-effective, to the A.G.'s [Adjutant General] office at the base...effects will be forwarded to the officer in charge of records concerned..." (Field Service Regulations 1909 Part 2 134 (1)). Eventually they would reach the families but it could take several months after the soldier's death before their effects were received.
882 Private (Pte) Robert Gladstone Fenwick, 26th Battalion. Listed as missing after the Battle of Fromelles, the return of his disc to AIF Headquarters by the Germans in 1917 allowed them to confirm he had been killed. P07317.001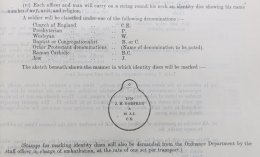 161 Private Raymond Holstein Pflaum, 32 Battalion. Pflaum died of wounds at Fromelles soon after he was captured by the Germans and he was buried in the Pheasant Wood mass grave. His identity disc was returned by them directly to his family. P09291.453
INTRODUCTION OF THE NEW DISCS
In late 1916 Australia adopted the British regulation from Army Order 287 (published as Military Order 507 by the AIF) to issue each member of the AIF with two discs, both made of compressed fibre - one circular red disc and one octagonal green disc. The British had introduced the red fibre disc in August 1914 but Australia did not follow this change and men were being issued with metal discs until the introduction of the two fibre discs.
Military Order 507 of 1916 - introduction of new identity discs to the AIF
Although the regulations show that the green disc was to be secured around the neck, with the red disc attached to it by a short piece of cord, not everyone followed the regulations. Some men wore both discs on the same string, or wore them in locations other than around their necks. It is also not unusual to see incidents of men retaining their original metal disc and wearing it with the green octagonal disc.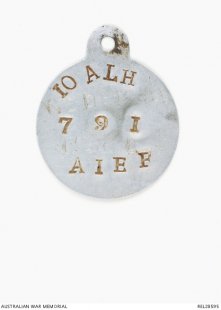 Detail from E02892 showing an artilleryman wearing his discs attached to his suspenders.
UNOFFICIAL IDENTITY DISCS
In late 1917 a number of Australian newspapers published an article titled "Soldier's Fears". Among other fears it noted that:
"Many soldiers have a horror of losing their identity discs, or of being unidentified if they are killed, and buried in a nameless grave. One man is known to carry little scraps of paper in every pocket, giving his name and regiment, so that his body may be recognised if he is killed."
Given it was over two years from the declaration of war until the Department of Defence finally ordered that two discs be worn, this fear could have contributed to large numbers of Australians wearing unofficial commercially produced or improvised identity discs in addition to their issued disc. Discs made from ground down foreign coins were particularly popular as were identity bracelets. Given the level of destruction that was wreaked on the men serving on the front line as a result of shell and machine gun fire, it was wise to wear identification on multiple parts of the body. The photographs taken at Vignacourt by the Thuilliers show several examples of men wearing identity bracelets.
Portrait of an unidentified Australian soldier from the 2nd Division taken by Louis and Antoinette Thuillier in Vignacourt, France. He wears an identity bracelet on his left wrist. P10550.283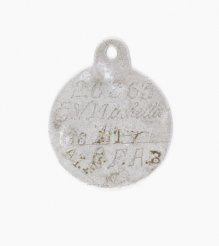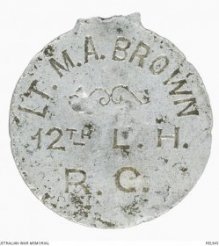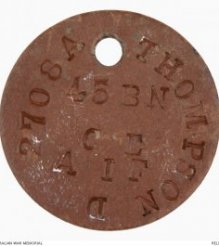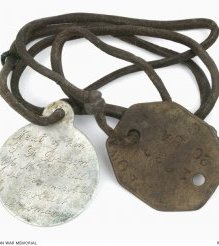 Share this article
Related Posts