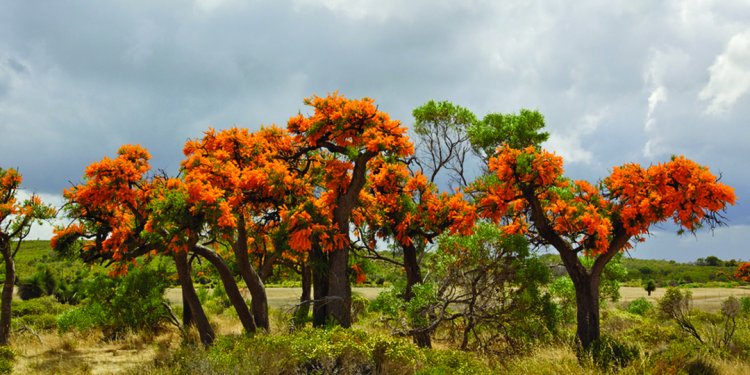 Australian Christmas images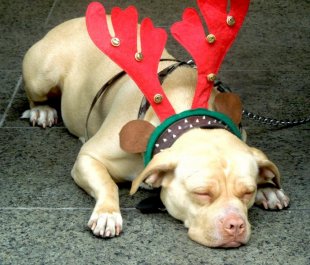 Katherine Veness's blog | Created 2 years ago
Christmas dog
Image copyright WA Museum
A short history of Christmas
In 2014, the notion of 'Christmas' means a lot of different things to a lot of different people. Traditionally, Christmas is a religious holiday to commemorate the birth of Jesus Christ, and many people still choose to attend Church services at this time of year.
The Christmas Day many Australian's know today, with family celebrations, carols, and gift-giving, was largely influenced by the novelist Charles Dickens when he wrote and published the novella A Christmas Carol in 1843.
Some ways Christmas is celebrated today include
Gift giving/Christmas cards
Church celebrations and services
Music/carolling – Carols by Candlelight
Various decorations, including Christmas trees, baubles, tinsel, lights, candles, nativity scenes, garlands, wreaths, holly and mistletoe
Santa Claus/Father Christmas/Saint Nicholas etc.
Christmas stories/poems
Christmas feasts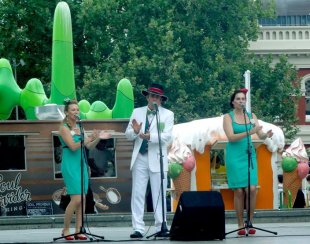 Christmas singers at Perth Hawker's Market
Image copyright WA Museum
"At Christmas, all roads lead home"
The most important aspect of Christmas all over the world is to spend time with family and friends, no matter how the festivities are carried out. Christmas Day, for many busy families, is the one day of the year when everyone is able to gather in one room at the same time.
Quote by Marjorie Holmes
A Summertime Christmas
Christmas in Australia falls in the summer, and it's not unusual for the 25th of December to be very hot in most parts of the country, including in the West. As such, a lot of people spend Christmas at the beach, by a pool, or picnicking on the banks of a river.
Sometimes, though, snow falls in Western Australia - just not the type of snow you might expect to see in colder climes!
Fake snow falls in London Court, Perth
Image copyright WA Museum
Fake snow falls in London Court, Perth
Image copyright WA Museum
Christmas Feasting
For many, a Western Australian Christmas lunch or dinner isn't complete without the opportunity to feast on a spread of seafood, especially prawns and oysters, and roast meat.
Dessert is also an important affair, with an abundance of trifles, puddings, pavlovas, rum balls and mince pies adorning groaning tables across the state (and the country!)
Game, Set, Match!
Sport plays a big role on Christmas Day for a lot of people. What better way to work off that big Christmas lunch? Family and friends will often gather to play a game of cricket, tennis or football - if it's not too hot that is!
The Gift of Giving
Christmas time is also an important time for charities. As well as gathering donations, charities also recieve an abundance of volunteers willing to give their time to those in need, perhaps helping to prepare meals for the homeless, or wrap gifts for those who otherwise might not receive any.
Lit up like a Christmas Tree
Another way Christmas cheer is spread is through Christmas light competitions, and some people take this very seriously!
Sometimes, entire streets and neighbourhoods will come together to create a Christmas wonderland of coloured flashing lights, garden ornaments in the shape of sleighs and reindeer, blow-up Santa's and snowmen, fake snow, and singing angels. And, of course, strategically opened curtains often reveal a magnificent Christmas tree to top off this festival of lights.
Festival Time
Speaking of festivals, Christmas festivals are a hot-ticket item on many family to-do lists at this special time of year. For example, the Perth City Festival of Christmas offers myriad family-friendly events and activities throughout the Christmas season.
Perth Hawkers Market
Image copyright WA Museum
Christmas in the outback
The Christmas tradition has remained an important part of society ever since the European colonisation of Australia. Even the continent's most remote corners participated in the Christmas cheer, including the inhabitants of Kalgoorlie. This image, from the Dwyer and Mackay Collection, shows a horse-drawn cart loaded with Christmas mail outside the Kalgoorlie Post office in 1903.
Horse drawn Cart with load of Mail Bags, staff around Cart outside Kalgoorlie Post Office.
Image copyright WA Museum
This article reflects just some of the ways Christmas is celebrated in Western Australia. Please share your Christmas traditions in the comments section below.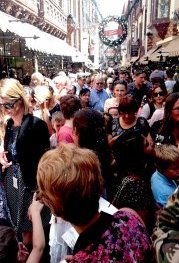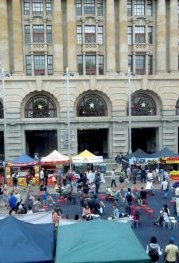 Share this article
Related Posts